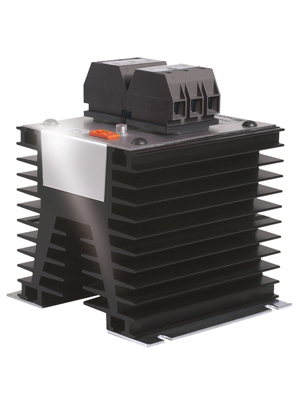 THYRISTOR SWITCH
You'll barely find a more compact one.
Thyristor switches made by our German sister company SYSTEM ELECTRIC. The intelligent switch allows for immediate response to rapidly changing reactive loads, with no harm to the capacitors.
Enter a known article number, in full or in parts, in the field "Specific part number" and start your search. Alternatively, you can search by general or pre-filtered technical criteria in line 2.
Please note that, for technical reasons, our database can only be updated once a day. Therefore, the information about our stock quantities needs to be confirmed by our sales teams. Occasionally it may happen that the goods have been sold in the meantime.
Immediate compensation of inductive reactive power is very often the only way to cope with disturbances imposed on the mains by huge, rapidly changing inductive loads. The CONDENSOTRONIC thyristor switch module makes reaction times of 1...20 milliseconds possible. The switching is done, practically without reactive effects, at zero voltage level (no voltage between input and output). The CONDENSOTRONIC module has a very compact design, convenient connection, integral overheating protection, and LED indication for the switching signal and excessive temperature.
Available for 400- and 525V-mains, reactive power up to 100kvar.